Pieces of Racing Distinction

NASCAR Hall of Fame Inductees receive unique tokens of esteem: an official NASCAR Hall of Fame Blue Jacket and class ring.
The Blue Jacket

The legends of the sport are recognized with one of the most unique keepsakes there is: a handcrafted NASCAR Hall of Fame blue jacket.
The jacket is an exclusive NASCAR Hall of Fame blue that's not available to the general public. It's handcrafted by Oxxford Clothes in Chicago—one of the only completely handmade suit makers in America. Like a distinguished career in racing, there is no substitute for hard work and each jacket represents 28 hours of stitching, pressing and sewing.

Designed by Taylor Richards & Conger in Charlotte, NC
Made of an exclusive mohair fabric from Holland & Sherry in Scotland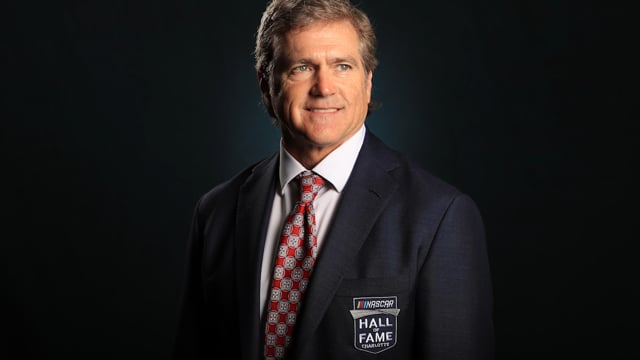 THE MAKING OF THE BLUE JACKET
Class Ring

Each inductee also shares a common bond with the NASCAR Hall of Fame class ring. The top of the ring features 25 diamonds totaling .303 carats, with two diamond-cut, synthetic blue sapphires and the words "NASCAR Hall of Fame." The right side of the ring features the NASCAR Hall of Fame logo and "Charlotte" to recognize the city of the NASCAR Hall of Fame, while the left side features the honoree's name and year of induction. The NASCAR Hall of Fame ribbon represents the speed, banking and spectacle that surrounds the sport.
Manufactured by Jostens
The total weight of the 10K gold ring averages around 30 grams
The inaugural class rings are the only ones with a gold medallion at the top of the spire
"Our Sport. Our House." is raised above the logo