DIE-CAST PAINT SCHEME
CAST YOUR VOTE

Presented by Lionel Racing
Vote for your favorite custom paint scheme and be entered to win a 1:24 die-cast featuring Class of 2023 Inductees Matt Kenseth, Hershel McGriff and Kirk Shelmerdine.
VOTING IS NOW CLOSED

Thank you to all the fans who participated. Voting ended on Monday, June 6, 2022. The five winners of the 1:24 die-cast cars will be randomly selected and contacted via email.
VOTE FOR THE CLASS OF 2023 DIE-CAST DESIGN

Win a limited edition 1:24 die-cast.
In celebration of the upcoming NASCAR Hall of Fame Inductee Class of 2023, the Hall has partnered with Lionel Racing to allow you, the fans, to vote for your favorite of three unique and newly-created design schemes to be featured on the official class die-cast.
Five participants will be chosen at random to receive an official NASCAR Hall of Fame Class of 2023 1:24 die-cast car.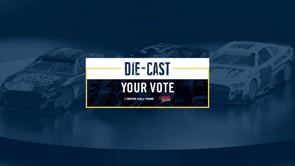 CHECK OUT THE PAINT SCHEMES & VOTE BELOW
Design 1

This bold, varsity design incorporates the Hall's signature blue accent paired with NASCAR's blue and yellow in an outlined "23" on the car's sides and roof. The Hall's iconic ribbon serves as racing stripes representing the speed and intensity of racing while being a nod to the Hall's unique architectural design with the crisp white Forever Legends logo honoring the inaugural Class of 2023.
Design 2

This modern and mysterious design provides a sleek approach featuring the Hall's signature blue fading to black. The gray color gradient of the "23" represents the speed and agility necessary to the sport with the Forever Legends logo standing out in a sharp white against the dark, glossy hood.
Design 3

This classic design features a crisp white frame with pronounced racing stripes in NASCAR's signature color scheme. The stylized "23" is a nod to the era of NASCAR past while the Forever Legends logo emblazoned across the hood represents the immortalization of the 2023 inaugural class among the ranks of NASCAR greats.
TERMS & CONDITIONS

Winners will be selected at random and notified by 1 p.m. ET on Monday, June 20, 2022 via email.
Please note: due to the increased production window, the NASCAR Hall of Fame will receive die-cast cars by January 2023. Winners can expect their 1:24 die-cast prize at that time.
ELIGIBILITY
To enter the sweepstakes, you must, at the time of entry, be a lawful, permanent resident of the 48 contiguous United States or the District of Columbia, be 21 years of age or older by the date of entry, and be physically located in the 48 contiguous United States or the District of Columbia. Sweepstakes is void in Alaska, Hawaii, Puerto Rico, U.S. territories and possessions, outside of the U.S. and where prohibited by law. The sweepstakes and any websites, web pages and advertisements relating thereto are intended for viewing only within the United States. Entries received from persons residing outside of the eligible geographic areas, or where restricted or prohibited by law, will be disqualified. Employees of the CRVA (Charlotte Regional Visitors Authority) and participating partners, their advertising and promotion agencies, and their immediate families (parents, siblings, children and spouses of each, regardless of where they live) and members of the households (whether related or not) of such employees, are ineligible to participate in this sweepstakes. No purchase necessary to enter or win. By participating, entrant agrees to abide by these Official Rules and the decisions of the CRVA, which are final and binding in all respects.
In Florida, New York, Louisiana and Rhode Island, sponsors are required to register all sweepstakes where the total retail value of all the prizes is greater than a certain amount of money (Florida - $5,000; New York- $5,000; Rhode Island – for retail promotions where the prize is greater than $500; Louisiana – requires registration regardless of the prizes total value. For information about registration requirements, please contact the numbers below:
(a) New York State Department - 518-474-4770
(b) Rhode Island Office of Secretary of State - 401-222-3040
(c) Florida Department of Agriculture - 850-488-2221 (outside Florida) or 800-435-7352 (Florida only)
(d) Louisiana Office of the Attorney General - 225-326-6040
DRAWING & NOTIFICATION
The Contest begins on Tuesday, May 17, 2022 at 10:00 a.m. Eastern Time. Voting will close at 11:59 p.m. on Sunday, June 5. The CRVA will randomly select the winners on Monday, June 6, 2022 at 12:00 p.m. for the prize described herein. The potential winner will be notified via email. If the potential winner does not respond within forty-eight (48) hours from the first notification attempt then such person will be disqualified and an alternate winner will be selected. All notification requirements, as well as other requirements within these official rules, will be strictly enforced. The potential winner may also be announced via the CRVA's social media channels once the winner has responded and accepted the sweepstakes via email.
PRIZES
Five (5) prize winners will each receive one (1) NASCAR Hall of Fame Class of 2023 1:24 die-cast car.
PRIVACY
Except where prohibited by law, participation in the sweepstakes and/or acceptance of a prize constitutes permission for the CRVA to use the winner's name, photograph, likeness, statement, biographical information, voice and address (city and state only) on a worldwide basis and in all forms of media, in perpetuity and without further compensation in connection with this sweepstakes. Entry in the sweepstakes constitutes consent to the transfer of the personal information collected by the CRVA for the purposes of administering the sweepstakes and for such other purposes to which entrant may consent as outlined herein or on the contest website. Upon entering the sweepstakes, an entrant may elect to receive information from the CRVA. If an entrant to the sweepstakes elects to receive information from the CRVA, then such information will be subject to the CRVA Privacy Policy. By electing to receive information from the CRVA, the entrant acknowledges that they have read and accepted the CRVA Privacy Policy.
SWEEPSTAKES CONDITIONS
This sweepstakes is subject to all applicable federal, state and local laws. By participating, entrants agree to be bound by these official rules and the decisions of CRVA and to waive any right to claim ambiguity in the sweepstakes or these official rules. By entering, winners and entrants also agree to release, discharge, indemnify and hold harmless sweepstakes entities (CRVA or participating partners) and each of their respective officers, directors, employees, agents and representatives, from and against any claims, damages or liability due to any injuries, damages or losses to any person (including death) or property of any kind, resulting in whole or in part, directly or indirectly, from a) acceptance, possession, misuse or use of any prize or participation in any sweepstakes related activity or participation in this sweepstakes, b) any malfunction or other problem with the sweepstakes Web page, c) any error in the collection or retention of entry information, or d) any typographical or other error in the printing, offering or announcement of any prize. In the event of a dispute over an electronic entry, prize will be awarded to the owner of the email account, not the name on the entry form.
LIMITATIONS OF LIABILITY
Sweepstakes entities are not responsible for late, lost, damaged, misdirected, incorrectly addressed, incomplete, illegible, undeliverable, destroyed or postage due mail entries and/or lost, late, misdirected, undeliverable or incomplete online entries due to system errors or failures or faulty transmissions or other telecommunications malfunctions; and/or entries not received resulting from any hardware or software failures of any kind, lost or unavailable network connections, or failed, incomplete or garbled computer or telephone transmissions, typographical or system/human errors and failures, or faulty transmissions, or for any problems or technical malfunction(s) of any telephone network or lines, cable connections, or satellite transmissions, computer online systems, servers or providers, computer equipment, or entries not received by the CRVA on account of technical problems or traffic congestion on the Internet or on a website, or any combination thereof, including other telecommunication, cable, digital or satellite malfunctions, which may limit an entrant's ability to participate. The sweepstakes entities are also not responsible for any malfunction of the entire sweepstakes website or error in the collection, processing or retention of entry information.
TERMINATION/SUSPENSION/MODIFICATION OF SWEEPSTAKES
If for any reason this sweepstakes is not capable of running as planned, including, but not limited to, infection by computer virus, bugs, tampering, unauthorized intervention, fraud or any other causes beyond the reasonable control of the CRVA, which corrupt or affect the administration, security, fairness, integrity, fulfillment or proper conduct of the sweepstakes, the CRVA reserves the right at its sole discretion to terminate, modify or suspend the sweepstakes and to select the winner by conducting a random drawing from those eligible entries received up to the termination/suspension date. The CRVA may also disqualify or prohibit an entrant from participating in the sweepstakes or winning a prize in this or any other promotion conducted, at its sole discretion, if it determines that said entrant has violated the official rules or has threatened or is attempting to undermine the legitimate operation of the sweepstakes by cheating, hacking, deception or other unfair playing practices (including the use of automated quick-entry programs), or intending to annoy, abuse, threaten or harass any other entrants. Any attempt by an entrant to deliberately damage the Web site or undermine the legitimate operation of the sweepstakes may be in violation of criminal and civil laws. Should such an attempt be made, CRVA reserves the right to seek remedies and damages (including attorney's fees) from any such entrant to the fullest extent of the law, including criminal prosecution.
MISCELLANEOUS
Void where prohibited. All federal, state and local laws and regulations apply.
The CRVA reserves the right, in its sole discretion, to disqualify any individual who tampers with the entry process and to cancel, terminate, modify and/or suspend the contest in the event of tampering or other circumstances, including but not limited to natural disasters or civil disturbances that render it impractical or impossible to complete or fulfill the contest/ sweepstakes as originally planned.
The CRVA reserves the right to make changes in these rules. Any such changes will become effective upon notice via online posting on this sweepstakes rules and regulations page on nascarhall.com.