FIELD TRIPS
ON THE ROAD

Our education team can bring curriculum and project-based learning directly to your school.
Spark! Education

Highlights Include:

Grade- or school-level teaching options available.
Guided in-person instruction by knowledgeable staff member.
Aligned workshop to support standards of learning and real-life application.
Workshop lab activities tested live with staff member.
Engage students in discovery through hands-on activities.
Personal connection that can be reinforced with on-site visit to the NASCAR Hall of Fame.
Students can visit NASCAR Hall of Fame with their family at a discounted rate.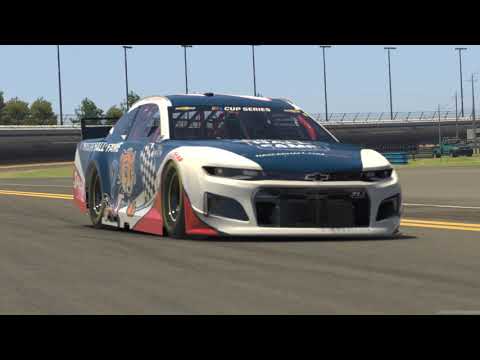 Featured Lesson: Types of Energy
1964
1975
1984
1996
1968
1974
1982
1994
1964
1978
1981
1994
Our Catalog for Educators

NASCAR Hall of Fame Field Trips and educational learning opportunities for the 2022-2023 school year.

View classes and curriculum standards.
What you need to know

Explore the world of racing without leaving the classroom as NASCAR Hall of Fame education staff members bring our learning lab workshop to you on site. With whole-grade and school-level teaching options available, this hybrid interaction engages students in discovery through hands-on activities with props as teaching tools or demonstrations of on-site field trip experiences to NASCAR Hall of Fame (such as tires, uniforms and other objects.) Following the workshop, participating students are invited to visit the Hall with their family at a discounted rate.
What we provide
1 to 2 NASCAR Hall of Fame Education staff members, depending on the number of workshops
Flexibility to host workshop indoors or outdoors (with pre-scheduled alternative days in lieu of weather)
Audio\visual presentation with option to bring any supplemental items like a microphone system
If outdoors, a 10' by 10' tent, collapsible teaching table, mats for students, wireless microphone system and supplies to clean between groups
All materials and supplies for workshop including discovery elements to enhance learning experience
Health and temperature screenings for Hall Education staff the day of, in addition to face coverings at all times and cleaning materials/protocols which meet or exceed CDC/state guidelines
What You Provide
Power and use of computer/projector if inside or access to power if outside
For middle and high school workshops, tables and chairs (recommended)
Educational Workshops and Classes
Workshops have pre-set time lengths but can be adjusted to fit your school's schedule.

Elementary (K-5) workshops are 30 minutes long. Middle school (6-8) classes are 60 minutes long. High school (9-12) seminars are 90 minutes long.

All workshops are aligned to national and state standards; adaptations or adjustments to objectives can be accommodated to fit your needs with at least a month's notice.
Teachers receive access to post-visit activities and a full lesson plan of the workshop before the day of the presentation.
Programs presented at your location can be paired with a field trip to NASCAR Hall of Fame to further the experience.
Making Reservations
On the Road workshops are available within a 2- to 3-hour/200-mile radius of Charlotte (day round-trip) with the included price structure.
Hall staff can travel beyond this radius with additional fees for venues or sites, including an overnight stay.
Sessions can take place seven days a week between 8 a.m. and 5 p.m. The earliest booking time is 8 a.m. with the latest presentation (without additional cost) start time at 5 p.m.
Multiple classes or workshops can be booked on the same day. Please allow 15 to 20 minutes between classes for Hall staff members to reset and clean before the next group/change of location. Presentations do not need to be back to back.
Grade levels and presentation topics can be blended and adapted to fit your needs.
In cases of inclement weather where Hall staff cannot make it to the venue or there's a cancellation, the workshop will be rescheduled.
Payment for the workshop is due at the time of booking for a minimum number of students/participants.
Field Trips and Educational Program FAQs

Do you provide any scholarships for student visits?
NASCAR Hall of Fame Foundation accepts applications for financial support for admission and education classes at the NASCAR Hall of Fame. Eligibility is based on free and reduced lunch and Title I
percentages for a school. The availability of financial assistance depends on funds available for a year.
What is the cancellation or refund policy?
Cancellation notice is requested as soon as possible. Cancellations may be rescheduled for a visit within 12 months. There is no fee for rescheduling as long as the class or visit is rescheduled within one week of the cancellation date and the visit is completed within the 12 months of the originally scheduled date. Changes to the number of attendees must be made three days before the program or visit, and an adjusted invoice will be provided. No refunds will be issued the day of the visit.
When do we need to provide payment?
Payment is required five days before the program or visit date. Payments can be made via check or credit card. School checks (no personal) may be accepted on the day of the visit.
How far in advance do I need to schedule a field trip?
You may schedule your field trip up to a year in advance to secure your first date selection. A reservation is recommended at least four months in advance of your priority visit day. If you call with less than a month's notice, availability may be limited for select dates.
Can I receive a customized program for my group?
Requests for programs modified in content, length, or to fit ages other than those listed on the education section may be granted depending upon availability and require a custom program fee. Lead-time of at least six weeks is needed.
Virtual Field Trips

Experience a virtual pass to the Hall through our distance learning options.
At The Hall

Visit us in Charlotte, North Carolina, for the ultimate learning field trip experience.
Contact our team

We're here to help you plan your On the Road Field Trip.
Bryan Kowert
Senior Manager, Group Sales
704-654-4435
Email
Amy Lopez
Group Sales Manager
704-654-4437
Email
Eliza Russell
Director, Education & Public Programs
704-654-4462
Email